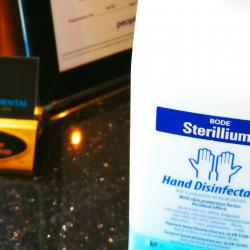 Posted on 1 April, 2020 by Hillsborough Dental
One of the fundamentals of controlling spread of diseases such as Covid-19  is hygiene and regular and frequent hand washing. I see a lot of people in shops wearing gloves in the misguided belief they are protected against catching the virus. You can still pick up the coronavirus from a door handle, a light switch or any contaminated surface while wearing gloves, and can then unwittingly transfer it to your face or other surfaces just the same as you would with bare hands. The gloves are...
Posted on 22 April, 2020 by Hillsborough Dental
If you are anything like me you will have been opening the cupboards and fridge much more often during this lockdown period. I have a terribly sweet tooth so my choices are invariably poor ones.   Dental decay needs three things to occur – teeth, sugar and bacteria - eliminate any one of these and you solve the problem of decay.   However that is sadly impossible unless you would like to replace your teeth with a set of plastic dentures.  What we can aim to do is clean well with...